Configuration
General Setting
Catalog
Type

Description

Example

Administrator see everything

if it is enable : allow all "administrator accounts" to see all contents which are in the catalog.

If it is disable, the "administrator accounts" will not see the files they are not granted to see.

Default Filter

to hide in the catalog the hidden files (.*)

-file_name:(.*)
Cache Cleaning
Parameters

Description

Default value

Cleaning percent

If the available space (free space) is less than the defined percentage of the total size of cache,

the automatic cache cleaning is launched to free-up some space on the cache.

5%

Task

Parameters

Description

Default Value

Memory Threshold

Threshold of used memory preventing to start a new task.

80%

Rules Threshold

Threshold of the number of active tasks preventing the start of a new task.

20 tasks
Module Activation
In this section you can activate some module:
Module Type

Description

Default Value

Data Access Audit
Audit the file access into each Containers.

(Not available for now)
not activated
Data Management Audit
Audit the actions done in the Web GUI per user
activated
Debug Mode

Enable detailed debug trace generation.

Note : to be enable for troubleshooting. The generated files can overload the system disk space (be careful)

not activated
Storage Configuration
Tape
| Type | Description | Default Value |
| --- | --- | --- |
| Min. Time to remain in the cache before any actions | Define the number of seconds before a file is eligible for automatic cache cleaning. | 900 sec. |
| Max. Tapes | Number of Tapes manage by Nodeum | 15.000 |
| LTFS unmount idle time | idle time after when LTFS will be unmounted (in minutes) | 30 Min. |
| Tape unmount idle time | idle time after when Tape will be unmounted (in minutes) | 60 Min. |
ACSLS Server Configuration
This section is required to connect an ACSLS server. You need to configure the ACSLS server definition.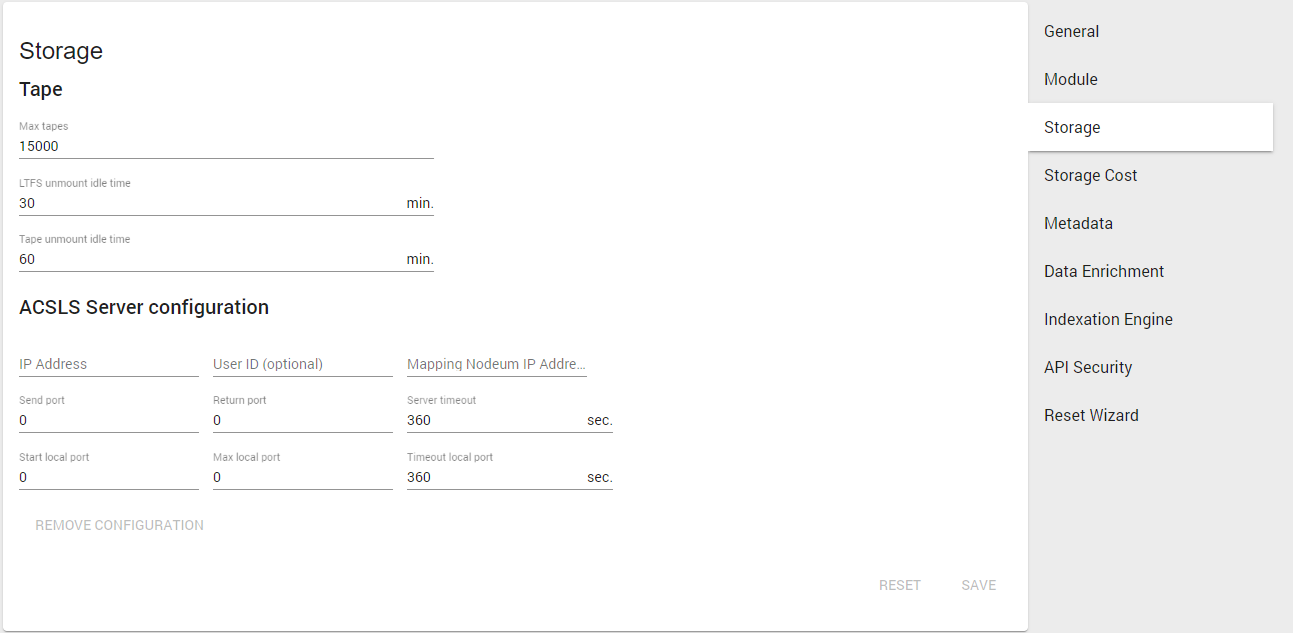 Fill in the following parameters:
Parameters

Description

Comments

IP Address

Complete IP address of the ACSLS Server

Required

User ID

User ID defined in the ACSLS configuration

Optional

Mapping Nodeum IP Address

IP address of the Nodeum server used to connect to the ACSLS server

Send Port

Port defined in ACSLS to accept request.

(0: uses any port)

Return Port

Define the return port used by ACSLS to send back a reply

(0: uses any port)

Server Timeout

Timeout of the ACSLS server to send back a reply

Start Local Port and Max Local Port

In security tight environments where firewalls are involved, it might be necessary

to specify which range of source ports are in use in order to open them in the firewalls.

Start Local Port defines the starting port and Max Local Port defines the number of ports.

Timeout Local Port

Timeout on the local port connection
Refer to the ACSLS documentation and configuration for more information about those different ACSLS parameters.
Storage Cost
To help you to use the TCO calculator, you can fill this form to calculate the price of your storage.

Metadata
Create your file metedata and task metadata to apply during the worflow execution.
Data Enrichment
Nodeum is able to use Google Vision API to help you to enrich your data.

For this usage you need to configure a dedicated cloud pool and upload the Key File.

Indexation Engine
The engine run automaticly.
Sometimes, it's required to index the catalog.
| Type of Indexaton | Description |
| --- | --- |
| Full | a Full which will launch a complete new Indexation |
API Security
Cors (Cross-Origin resource Sharing)
if you need to activate API usage from your browser.
You can define the CORS per :
Origins : this the DNS domain definition or * for everything

Path : definition of API path url , * is a wildcard
Methods : you can be granular on the method you want to allow GET / POST / PUT / DELETE / OPTIONS
Multiple rules can be define to adapt exactly the rules set you want.
API Token
Reset Wizard