To help the monitoring of task execution, a full monitoring is provided in the GUI.
This Dashboard provides the global overview of all tasks activities. Three different sections are available :
Upcoming Task
Running task
History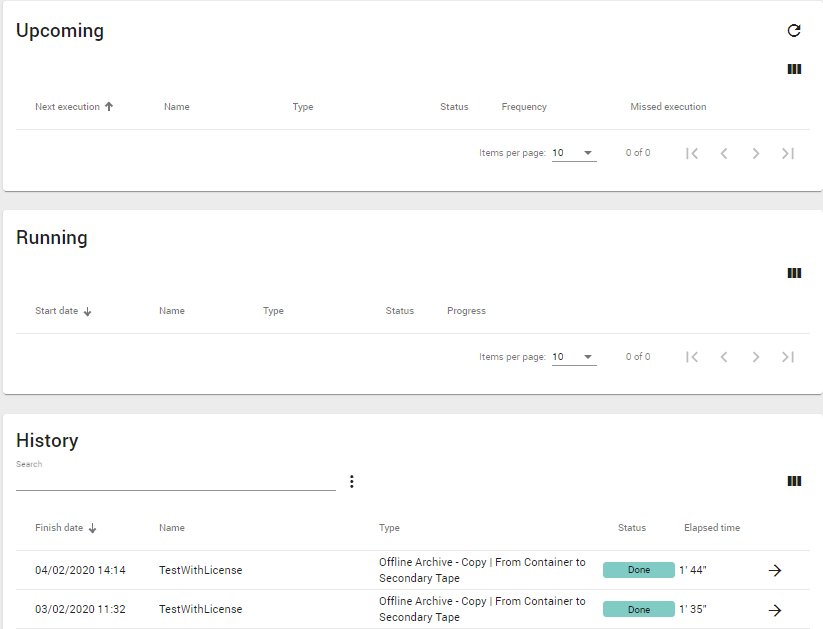 To facilitate the search, you have different filters to retrieve easily the task you want to see.
Upcoming
This section shows the task(s) scheduled. You can skip it if needed.
Running
This section provides the list of the task(s) which are currently running.
For each of these tasks, you can
see the detail and the status
Pause the process of the task
Stop the process of the task
Resume a task paused
History
This section is the list of task already run.
Task Report
Informations
Definition

Timing

Task starts the x date and at x hours
Elapsed time for the task
Estimated remaining time to process the task

Type

Offline Archive
Active Archive
Data Exchange

Move or Copy to a destination:

Network Shared Folder named Container

Nas

Tape

Processed size

size of data processed

Processed items

Number of items of data processed

To see the good process click on the tab processed items*

Logs

Details of task's log
The complete task report, can be download. This report contains all files processed during the task. You can download in the processed items.